About Nolan Real Estate
Nolan Real Estate Services is committed to offering an excellent lifestyle to our residents and associates and outstanding results to our investors.
Nolan Real Estate Services, founded in 1980, began as a brokerage company employing more than 20 brokers. Disappointed in the quality of third-party management, the company started a property management division and was soon managing third-party assets. By the late 1980s, Nolan was managing 15,000 multifamily units and 20 hotels. New offerings included consulting and providing property, asset management and receivership services for a variety of financial institutions, which led to an asset management contract with the Resolution Trust Corporation (RTC). Nolan became a leading regional asset manager, disposing of more than $500 million of assets during its 4-year association with the RTC. The Resolution Trust Corporation (RTC) acknowledged the firm's proficiency in asset management with one of its very few awards for outstanding performance.
During our 2016 RED Retreat, our associates and attendees from communities around the company completed a fun and thought-provoking project where they were asked to take our company Mission Statement, simply it and translate it into a piece of art. The winning team, People First, did an amazing job! Read more about it here in this TeamRED Blog postng. Congratulations to People First! They are: Cheryl Ducote, Andy Evans, Julie Combs, Nancy Garivey, Steve Fanning, Randy HInes, Richard Melton, Ashley Hargate, and Shannon Averett. (pictured below left...People First with the group's original artwork)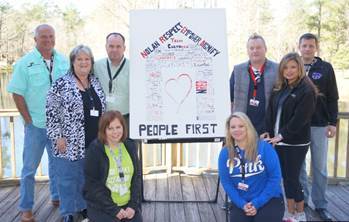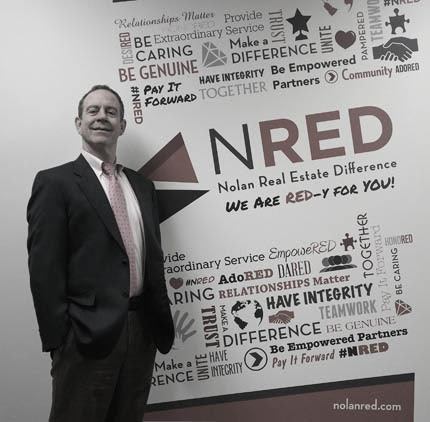 Property Management
Property Management is the core of Nolan Real Estate Services' business. Throughout its 33 years its professional staff has leased and managed all types of real estate assets. The firm has consistently been on the leading edge of technology implementing electronic property management, yield management and expense controller systems at both the property and home office level. Clients benefit from the "ownership" mentality at NRES that leverages professional, value-added management capabilities with an attention to detail and service to the resident and guests.
In collaboration with our partners, our  Senior Management Team works hard to align operations, marketing, finance, acquisitions and asset management for optimal growth and high-ROI results for our investors. At Nolan Real Estate, we believe our employees are our greatest asset. Our management teams have fully embraced the idea that management's greatest role is to unlock the human potential in every team and individual team member.